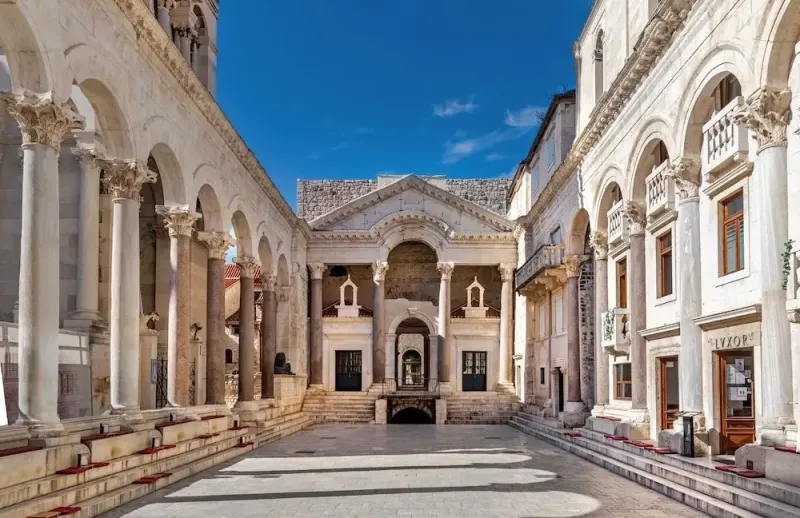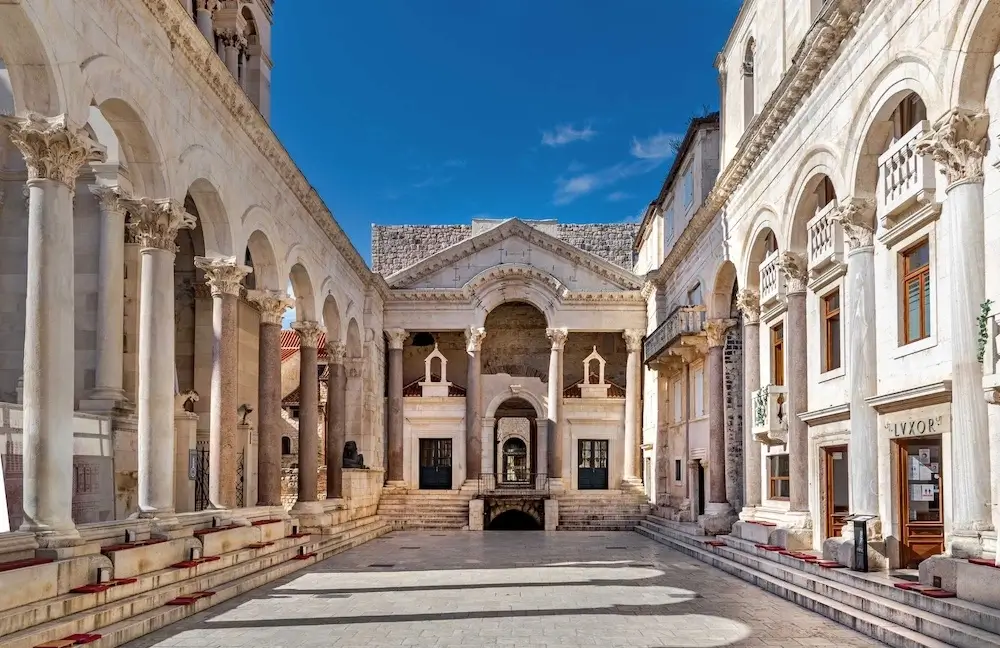 5 Amazing Things to Do in Split, Croatia
If you find yourself sailing along the pristine waters of the Adriatic Sea aboard a catamaran, it's likely that the city of Split Croatia, will be among your desired destinations.
The second-largest city in Croatia, Split offers a captivating blend of ancient history, azure waters, and modern-day charm that's hard to resist.
Not just a beautiful destination in itself, Split Croatia serves as a jumping-off point for yacht charters exploring Croatia's idyllic islands.
Whether you're a history enthusiast, a foodie, or someone just seeking a touch of luxury, here are five amazing things to do in Split, Croatia:
1. Dive into History at Diocletian's Palace
One of the city's crowning jewels, Diocletian's Palace is a UNESCO World Heritage Site that tells the tale of times gone by.
Unravel the Roman Empire's Legacy
Dating back to the 4th century, the palace was built as a retirement home for the Roman Emperor Diocletian. Today, it stands not just as a monument but as a lively part of the city, with numerous shops, restaurants, and homes located within its walls. The palace's cellars offer a unique glimpse into Roman architecture and are a must-visit.
Marvel at the Peristyle Square
Right at the heart of the palace, the Peristyle Square stands out with its impressive columns and is often a venue for musical performances, making it a cultural hotspot.
2. Soak in the Panoramic Views at Marjan Hill
Every great city has its viewpoint, and for Split, it's Marjan Hill.
A Nature Lover's Paradise
Beyond the city's hustle and bustle, Marjan Hill offers a peaceful retreat. The dense pine forest is crisscrossed with jogging tracks and recreational spots, making it perfect for both adventure seekers and those looking to relax.
Climb to the Top
For those willing to climb, the hill offers panoramic views of Split, the surrounding islands, and the shimmering Adriatic Sea. No sight is quite as rewarding as watching the sunset from Marjan, with your catamaran anchored in the distance.
3. Set Sail from the Marinas
What better way to explore the Dalmatian coast than aboard a catamaran? Split is home to some of Croatia's finest marinas, ready to set you on your next nautical adventure.
Choose Your Vessel
Whether you're looking for a luxurious yacht or a family-friendly catamaran, Split's marinas have something to suit every sailor's taste. Not only can you charter a vessel, but expert crews are also available to ensure a smooth sailing experience.
Discover Nearby Islands
Set sail to nearby islands such as Hvar, Brač, and Vis. Each offers a unique charm, from the lavender fields of Hvar to the mysterious Blue Cave of Vis. The clear waters of the Adriatic make for a delightful sailing experience, with hidden coves and beaches awaiting discovery.
4. Savor the Dalmatian Cuisine
Dalmatian cuisine is a feast for the senses, with an emphasis on fresh seafood, olive oil, and local wines.
Seafood Delicacies
From freshly caught fish to succulent oysters and mussels, the seafood in Split is nothing short of exquisite. Paired with a glass of local white wine, it's a culinary experience not to be missed.
Peka – A Traditional Treat
A traditional Croatian dish, Peka is a blend of meat and vegetables slow-cooked under a bell-like dome, or 'ispod čripnje'. The result? Melt-in-the-mouth delicacies that reflect the true flavors of Dalmatia.
5. Wander the Riva Promenade
Split's Riva Promenade is where the city comes alive, be it day or night.
Daytime Strolls
With the Adriatic on one side and an array of cafes and shops on the other, the Riva is perfect for daytime strolls. The palm-lined promenade offers views of boats swaying gently, with the backdrop of the historic city setting a picturesque scene.
Nighttime Revelries
As the sun sets, the Riva transforms. Locals and tourists gather to enjoy the vibrant nightlife, with bars and restaurants serving local delicacies and music filling the air.
Essential Tips for the Avid Sailor in Split
Now that you're ready to embark on your Split adventure, there are a few key pointers to keep in mind, especially if you're planning to set sail on the Adriatic.
Choose the Right Marina
Split offers several marinas, each with its unique flavor. If you're chartering a catamaran, make sure to check out marinas in Croatia that cater specifically to your type of vessel and offer the amenities you desire. Choosing the right marina can make all the difference, whether it's top-notch maintenance facilities or proximity to the city's attractions.
Stay Connected
While the allure of the open sea is undeniably strong, staying connected is essential. Be it for weather updates, emergency situations, or just touching base with loved ones, having access to important phone numbers in Croatia can be a lifesaver.
Respect the Sea
The Adriatic is known for its calm waters, but like any sea, it demands respect. Ensure you're well-informed about the local weather patterns, and always have life jackets and emergency equipment on hand. Be mindful of the marine ecosystem when anchoring near the coastline or secluded bays.
Shopping and Souvenirs in Split
Every trip deserves a memento, and Split has no shortage of shopping avenues.
Art and Craft
Split has a rich history of art and craftsmanship. Local artisans offer handcrafted jewelry, pottery, and paintings that reflect the Dalmatian spirit. These make for unique souvenirs, infusing your home with a touch of Croatia.
Lavender and Olive Oil
Dalmatia is renowned for its lavender fields and olive groves. Local markets in Split offer aromatic lavender products and high-quality olive oil, making for perfect gifts for loved ones back home or a delightful treat for yourself.
Experience the Festivities
If you're lucky enough to be in Split during a local festival, you're in for a treat.
 Summer Festival
The Split Summer Festival is a cultural extravaganza held annually in July and August. The festival showcases the rich cultural heritage of Split Croatia with open-air theatre performances, opera, and live music.
Advent in Split
Come winter, Split transforms into a festive wonderland. The Advent in Split Croatia features food stalls, live music, and festive lights, making it a magical experience for visitors of all ages.
Embracing the Catamaran Lifestyle in Split Croatia
Split Croatia has become a beacon for sailors and sea enthusiasts with its strategic location along the Adriatic coast. The city and surrounding areas have much to offer, especially if you're aboard a catamaran.
Sunbathing and Sea-View Dining
Your catamaran is a vessel for transport and a luxurious space to relax. Drop anchor in a secluded bay, spread out on the deck, and soak in the sun. Set a table on your catamaran's deck as the evening descends for an intimate sea-view dining experience, with the coastline of Split Croatia as your backdrop.
Island Hopping Adventures
While Split itself brims with attractions, your catamaran gives you the liberty to explore the nearby islands. Short sailing distances between the islands make for perfect day trips. From the buzzing nightlife of Hvar to the tranquility of Šolta, there's an island for every mood.
Diving and Water Sports
The clear waters around Split are perfect for diving. Anchor your catamaran in a crystal-clear bay and dive to explore the marine life. For adrenaline junkies, water skiing or jet skiing are excellent ways to add excitement to your sailing adventure.
Concluding Thoughts Of Split Croatia
With its blend of history, culture, and natural beauty, Split Croatia stands as one of the premier destinations.
Its allure is only heightened when you have the luxury of exploring it from the deck of a catamaran.
Whether you're tracing the footsteps of Roman emperors, reveling in modern-day festivities, or simply watching the sunset over the Adriatic, Split promises memories that will last a lifetime.
As you set sail, remember to keep the spirit of exploration alive, for every ripple in the Adriatic has a story to tell.