CATAMARAN CHARTER
CROATIA
Welcome To
Catamaran Charter Croatia

, part of Europe Yacht Charter group. Our mission is to give you a perfect vacation
We are professional charter company specialized in renting catamarans. Our story began in 2004, to address the need for specialized catamaran charter company in Croatia.
If you're seeking an extraordinary yacht charter experience in Europe, look no further than Europe Yachts. We specialize in creating unforgettable journeys tailored to your desires and preferences. As you embark on your luxury yacht charter adventure, we promise to provide exceptional service and a fleet of top-of-the-line yachts that will exceed your expectations.
When you choose Europe Yachts, you gain access to a diverse selection of luxurious motor yachts, sailing yachts, catamarans, and gulets. Each vessel in our fleet is meticulously maintained to ensure a seamless and comfortable experience. Step aboard and immerse yourself in the elegant cabins, well-appointed living areas, and modern amenities that will make your time on the water truly exceptional.
Our dedicated crew is committed to delivering personalized service throughout your journey. From experienced captains who will navigate the waters with expertise to attentive deckhands and knowledgeable crew members, every aspect of your charter will be handled with utmost care. Sit back, relax, and let our professional crew take care of your needs, ensuring your safety and comfort at all times.
What sets Europe Yachts apart is our ability to craft tailor-made itineraries that match your preferences. Whether you desire to explore stunning coastlines, discover hidden gems, or indulge in the vibrant culture of coastal cities, we will work closely with you to design a bespoke journey that fulfills your dreams. Our experienced charter specialists are always on hand to offer expert advice, answer your questions, and ensure that every detail is meticulously planned.
As you embark on your charter adventure, we provide a range of supplementary services to enhance your experience. Whether you require airport transfers, hotel reservations, private chefs, or assistance with special celebrations onboard, we are dedicated to meeting your every need and creating a truly memorable journey for you and your companions.
Europe Yachts operates in captivating European destinations known for their natural beauty, rich history, and remarkable sailing opportunities. From the stunning coastlines of Croatia, Greece, and Italy to the vibrant shores of Spain, France, and Montenegro, you'll have the opportunity to explore breathtaking landscapes, charming islands, and iconic landmarks.
At Europe Yachts, our mission is to provide exceptional service, ensuring that your charter experience is nothing short of extraordinary. Whether you're seeking a relaxing family vacation, a romantic getaway, or a corporate event, we are here to exceed your expectations and create cherished memories on the open seas. Come aboard and let Europe Yachts be your guide to a remarkable yacht charter experience in Europe.
We work with the very best. We are proud of our partners, who work with us to deliver the best in bespoke travel
No request is too big or too small for our team. If it matters to you, it matters to us. Let us make your catamaran charter
Croatia

vacation perfect.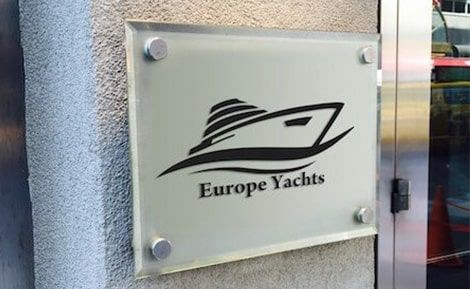 Catamaran rental service in Croaita with perfection and reliability? We provide tailor made itinerary's for all our clients with experience in charter industry for more than 15 year, and clients from all over the world and we try to make their and yours experience with catamaran charter Croatia worth every penny you spend with no hidden costs! Our booking service is 24/07 available, reliable and fast and you our booking managers will help you in choosing the best catamaran for you Croatia vacation. That's why we have a wide range of catamarans in almost all larger marinas on the Croatia coast, from Dubrovnik, Split, Hvar, Šibenik, Zadar and also Pula.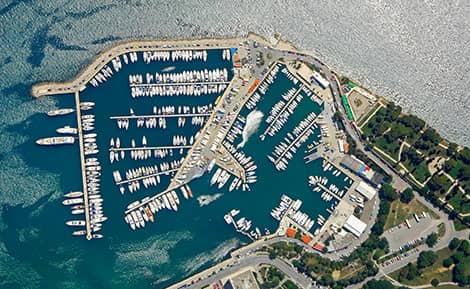 Catamaran Charter Croatia is located in all mayor marinas in Croatia, Pula, Biograd na moru, Zadar, Sukošan, Šibenik, Primošten, Rogoznica, Trogir, Split, Kaštela, Makarska, Slano and Dubrovnik or sailing areas Zadar (Kornati national Park), Šibenik charter area, Split charter area and Dubrovnik charter area.
With more than 200 catamarans in our fleet we are the BEST catamaran charter company in Croatia with professional crew in every marina that will fulfill all your needs at yours 7 or 14 days charter vacation.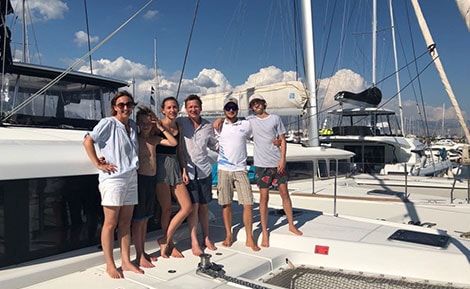 We have clients that are coming on our catamarans for relaxing with family and friends, corporate team buildings, nautical tourism to explore the islands or just enjoy Croatia coast and islands with the crystal blue sea. All our catamarans are ours or privately owned so they are all 100% fully functional and ready for charter. With our professional teams in the marinas, the quality of maintenance and preparation for every season is in high standards. Our prices are all with no hidden costs, fully transparent and our offers are all custom made for every of our clients individually for there preferences. Catamaran Charter Croatia as a member of Europe yachts Charter group is fully insured and GDPR secure so your deposits are fully insured and secure before and after your charter. Rent catamaran in Croatia with the best, be secure and enjoy your vacation because you deserve it!