Catamarans to Rent in Šibenik
Croatia is one of the world's most popular sailing destination and because of that has everything one could want for the perfect catamaran charter. Sibenik is a great spot to begin your Catamaran Charter navigation adventures with the glorious climate combined with the captivating culture. We can say that Sibenik offers everything you could want from an Adriatic holiday; the restoration of four fortresses, the construction of new marina and hotel complex are definitely worth seeing. If we compare Sibenik with neighboring Zadar, Sibenik is far better connected to the myriad of islands and islets that define this landscape. First in Croatia to receive 5 Gold Anchors, meaning it's a verified quality place to berth is Sibenik's marina D-Marin Mandalina. From a quietly industrial port town, Sibenik has become the region's most promising destination.
Catamaran Charter Croatia
2019-03-21T20:34:14+00:00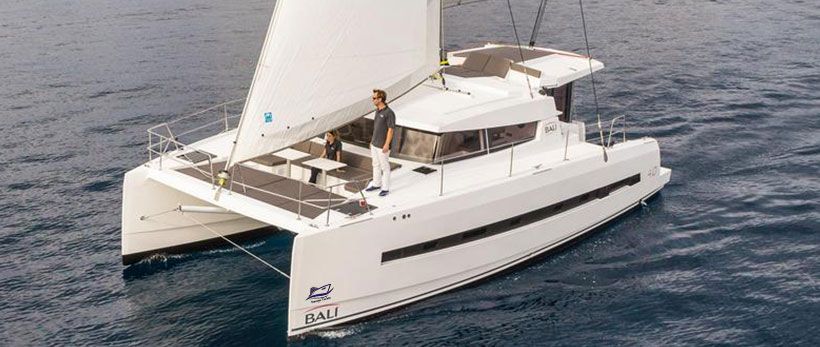 Built: 2017 / 2018
Cabins: 4
Berths: 10
Length: 12.20 m / 40.02 ft
From: € 3,300 / week

INQUIRE NOW »
Best things about a catamaran charter in Sibenik
Discover Croatia
Away from the crowded areas like Dubrovnik and Split, visitors can practice their sailing skills in comparative peace or sit back and relax. Zlatan and Prvić are the lovely islands if you want sail away from Sibenik. Olive groves and vineyards are surrounded with typical Dalmatian villages fringed with pebble and rock beaches. Defended by four fortresses, Sibenik's most impressive fortress is Tvrdjava Sv Nikole (St Nicholas). We could say that Croatia is a dream destination for passionate sailing lovers with more than 300 islands and rocks in its archipelago in the Middle Mediterranean. If you want discover Croatia choose the type of the boat you would like to sail around our archipelago, National Parks Kornati and Krka, unpopulated islands, hidden harbors and Dalmatian cities.
Krka National Park
Krka National Park is one of the many reasons people choose to visit Sibenik. Waterfall, 800-metre long, centerpieces Skradinski buk at Krka featuring a series of 17 cascades creating a green oasis away from the city. National Park Krka named after the 75 km-long Krka river, running through it and it's easily transferred by boat. We have to admit that is a fantastic stop off location on a chartered yacht tour, for a spot of wild swimming. Krka is more than pretty waterfalls because it offers activities like hiking, cycling and kayaking. If you have the opportunity, don't miss Visovac, a 16th-century Franciscan monastery built on its own island.
Beaches of Dalmatia
In the sparkling waters of the Adriatic, with thousands of islands scattered off the Dalmatian coast, you'll never be very far from some incredible beaches if you rent a catamaran from Sibenik. There are numerous famous beaches along the Adriatic coast like Bačvice in Split, Banje in Dubrovnik, Kolovare beach of Zadar, Bonj of Hvar, Solaris beach in Sibenik. Solaris resort with its beaches will offer everything you need for a perfect stay in Croatia. Solaris offer beaches thematically divided into different parts: Solaris sand beach, club beach, Spa beach, family beach, camping beach, Aquapark. You have a lot of choices when it comes to enjoying the sun, the water and the views in and around Sibenik.
Sailing Conditions
With mild winds and glorious temperatures, sailing under the heat of the Mediterranean sun, navigating the Dalmatian coast is always a dream. But if you don't want to be caught off guard by stronger gusts of the Bura or Jugo winds, you should keep an eye on regular forecasts during your catamaran charter. By cruising the sapphire waters of the Adriatic, starting from Sibenik, it will be an adventure between beautiful islands, natural untouched beauty and amazing climate.
Getting There
Croatia is well connected, with multiple airports along the Dalmatian coast, your catamaran charter base won't be far away. You can fly into Split or Zadar and take a connecting bus to Sibenik, or you can inform your Europe Yachts Charter group advisor in advance if you would like a private transfer organized for you (at an additional cost). We have the partners that will offer you the best possible prices and service will be tailor made just for you.