Catamarans to Rent in Split sailing area

The largest city on the Adriatic Coast, colorful culture, heavenly cuisine, Diocletian's Palace and Mausoleum, Grgur Ninski Statue and the Cathedral with bell tower of St. Domnius justify its positions a UNESCO designated world heritage site make up the city of Split. With over 200 catamarans available for charter in the region, there is infinite choice to suit everyone, so you will be able to pick the perfect destination with your ideal boat and experience unforgettable sailing trip!
Catamaran Charter Croatia
2023-06-25T21:04:59+00:00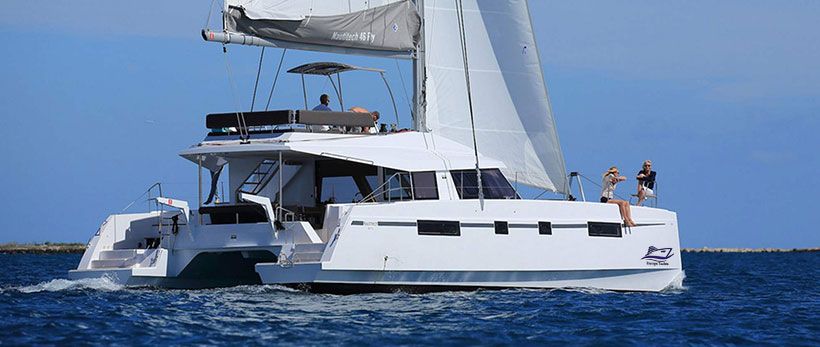 Built: 2018
Cabins: 4+2
Berths: 8+2+2
Length: 13.79 m / 45 ft
From: € 5,000 / week

INQUIRE NOW »
Croatia's Split is a city with a buzz at the heart of the Dalmatian coast. Few recommendations of how to spend a day here with a catamaran charter will allow you to explore this hub of culture, so moor your boat in one of the marinas and get up early to make the most of this captivating coastal city.
You can spent your day getting lost in the beautiful Diocletian Palace, a registered UNESCO World Heritage site. The core of the city are these monumental Roman ruins filled with galleries, bars, shops, cafes with free entry! One of the delightful restaurants are located just outside the palace walls where you can dining with locals with a beautiful view on sea and sun on Split Riva, and munching on home-cooked local specialties for a truly authentic experience.
After the buzz in the center, the best time to spend in the nature for a breath of fresh air is to hop on a bus and visit Marjan National Park where you can hike  to the peak for breathtaking views of city and ocean and explore medieval churches.
If you are tired of walking why not hop on a bus and back into the city and visit Riva, Split' s palm tree-lined waterfront promenade is the perfect spot to sit with a cocktail or wine and watch the sun go down. If you want to sit on a lunch you can order tuna salad or pizza with seafood, or walk a few minutes back into one of the alluring old town where you can try best Mexican food restaurant To je Tako.
For dinner take a walk to Villa Matejuška, cozy rustic restaurant with locally seafood, but try to book before because it's popular spot with limited space. Great desert to end the night walking the magical streets of Split is at Luka Ice Cream & Cakes  where you can take refreshing homemade ice cream with irresistible flavors of  pistachio, palm, pear, carrot …
Croatian Catamaran charter offers a lot more than just a boat rental, so precisely for that Split and the Adriatic Coast is an excellent place to start.
Three Reasons to Charter a Catamaran in Split
Stunning Coastline
If you want to experience the charming harbor town, gorgeous beaches, stunning archipelagos and rich history of Croatia's Dalmatian Coast, set sail on the shimmering Adriatic Sea and let your first stop be Split, the city that serves as an ideal jumping-off point to visit. Because of the range of landscapes it makes him an idyllic destination for a catamaran charter. There is a 13 charter bases across the region, including Marina Kastela on the mainland and Trogir and bases on the islands of Brač and Hvar from which you can rent a boat, so you will not be short of choice!
Cruising Climate
As a sailing destination the popularity of the Croatian coast lies as much in the ideal climate as in the beauty of its shores and variety of sailing conditions. Adriatic enjoys an average of 315 cloudless days per year and conditions for sailing are extraordinary in Split. The climate is designed for a catamaran charter with Mediterranean climate providing sunny, hot weather and mild winds. Sailors should be aware of potential stronger gusts of the Bora though winds generally range between 10-20 knots, also Jugo and Maestral winds, but generally between April and October, you could not find better navigation conditions than in Croatia!
Island life
Catamaran charter from Split gives you access to some of the beautiful islands and Croatia is home to over 1000 islands varying in size from small rocks in the sea to Cres island, which is the 20st largest island in the Mediterranean. Head to Brač if you are looking for magnificent beaches, rolling hills, isolated bays, clear water, pine and pig. Windsurfing, kite surfing, diving and visiting the numerous private coves are popular activities on Brač. If you're looking for a island with gently rolling hills, lush vineyards, beautiful beaches and vibrant nightlife, Hvar is the perfect island getaway. Starigrad is the oldest village on the island, but if you're want some adventure, take a water taxi to Pakleni otoci, archipelago near Hvar and find a moment of peace on the sunniest island in Europe!
Eating and Drinking in Split…
Split is unique combination of history, culture and gastronomy especially if you're a fan of seafood. Dalmatian food is unique combination of local fresh ingredients, historical influences and the hidden treasures. You will need to find where locals eat, and you'll surely discover the secrets of Croatian cuisine. Various types of fish, shells, crabs, olive oil, octopus, almonds, figs, blitva (green chard) are some of the traditional Dalmatian ingredients. In the old Varoš district you can find some unique restaurants with traditional Dalmatian food like konoba Hvaranin where they have excellent risottos, fish and home made bread. One of the largest in the centre is restaurant Bokeria whose name comes from a famous market in Barcelona called " La Boqueria". Get to know Split's gastronomy by visit green markets where you can learn about ingredients and taste traditional delicacies!
Brač Beaches
One of the most photographed beaches in Croatia is Zlatni Rat beach located in the city of Bol on the island of Brač. The pebbly beach with its unique shape and piercing blue water with an interesting end that is constantly changing shape with fluctuations in the tide and current. Brač is particulary famous for its white stone that was used to build the White House in Washington D.C. Get situated on one of the café cushions in front of the harbor while sunset approaches in Bol and watch sailboats and the island of Hvar that begins to glow in the distance. Cheers or in Croatian živjeli!
Getting There
Split Airport is the second busiest airport in Croatia after Zagreb airport and just before the Dubrovnik airport, with location of 24km from the Split city center, in the town of Kaštela, just near old town of Trogir. If you wish, transfers from the airport to your catamaran charter base can be organized (at an extra cost).