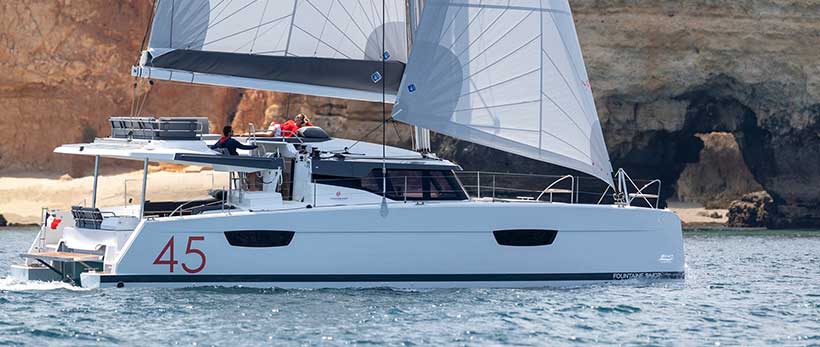 Review Boat: Fountaine Pajot Elba 45
France's Fountaine Pajot is something of unique kind in the market, with a story that goes back to its founding in 1976. The new Elba 45 available for catamaran charter in Croatia replaces the Helia 44 and is intended to be the yard's new bestseller. For that reason it is a safe, dependable, well-thought-out mainstay model located in Split, Šibenik, Zadar and Dubrovnik area.
Design & Construction
Fountaine-Pajot Elba 45 catamaran charter for rent in Croatia has been designed by Olivier Racoupeau from scratch, following over 150 meetings and thousands of hours of work. The brand-new hull offers 10 percent less drag than the Helia, thanks to a small chine in the aft section and a remodeled transom. The result is better performance at medium to high speeds and more efficient motoring: all that in a hull that is just 6in longer than its predecessor and 6in beamier.
Fountaine-Pajot whole perfomance is enacted in one continuous movement. Company "flagship director" Yves de Kerangat adds that the keels are simply glued into a specially designed recess in the hulls, with no keel bolts that could rip out and compromise the boat in the event of a collision or a grounding. Layup is done via vacuum infusion and employs a mixture of polyester and vinylester over glass, with a final coat of epoxy primer for blister resistance.
On deck
Fountaine Pajot has resisted the urge to offer this boat with a true flybridge, instead providing a bulkhead helm position with some low-profile lounging space on the coach roof. Why "resisted?" Well, although the extra space and cachet of a flybridge would appeal to some, it puts a lot of weight high up and forces the designer to raise the height of the boom. This, in turn, places the center of effort higher up, increasing heeling moment and requiring a taller mast.
As it is, the 45's helm offers a kind of halfway house in which the person at the wheel can still stay involved in life on the aft deck below, via sightlines through the ladder up to the coach roof. There is also a good 109sq. ft of cushion space up top, where crew can either keep the helmsperson company or just admire a sunset.
In terms of aesthetics, this is a modern-looking cruising catamaran with high topsides and bows, although a pronounced reverse sheer serves to minimize the bulk of the saloon windows at the same time it creates additional useful volume below. Toward the back, there's a mindful skirt to the transoms to form it less demanding to climb on board from the tender or when alongside. Another delicate touch is an optional electrically operated bathing platform, which ranges the whole width between the hulls and offers a convenient way to dispatch and recover a 10ft 10in tender, in this manner doing absent with the require for unattractive davits.
The rig is ICW friendly and represent to a lovely standard catamaran setup. The mainsheet runs to a traveler mounted aft of the helm and relaxing area, and the genoa sheets to a pair of tracks found near to the centerline and inside reach of the cockpit for simple control and tight trim angles. All lines are driven back to a rope-handling pit fair ahead of the wheel, where three Lewmar 50 winches permit you to handle sheets, halyards and reefing lines with ease. The saloon area is at the same time sizeable and clutter-free.
| | |
| --- | --- |
| Length | 13.45 m / 44.1 ft |
| Draft | 1.2 m / 3.9 ft |
| Displacement | 14.0 t |
| Build | 2020 / 2021 |
| | |
| --- | --- |
| Beam | 7.55 m / 13.45 ft |
| Engine | 2 x 60 HP / 2 x 45 KW |
| Fuel capacity | 470 l / 124 gal |
| Water capacity | 2 x 350 l / 2 x 92 gal |
Accommodations
Compared to the first-generation Helia 44, the group at Racoupeau and Fountaine Pajot has made a few critical changes interior, especially with regard to the expansive 180sq. ft saloon. For case, where the Helia had a horseshoe-shaped galley aft and a profound, devoted chart table forward to port, the modern boat takes off this space to a great extent uncluttered, with the galley presently running along the port side of the saloon, where it is punctuated by a set of stairs driving down into the cabins within the hull. The chart table has moreover been done absent with, and the navigation instruments moved to a cabinet by the sliding entryway driving to the cockpit. In clarifying the choice, Racoupeau says, "From our individual encounter, we saw that we utilize the chart table less and less. We go there for information, but not to sit down and work like we did within the past."
There are two interior arrangements on offer: a "Maestro," or owner's, adaptation that devotes the whole port hull to a twofold cabin with fold-out TV, dressing table, bountiful dress capacity and a huge shower room and heads; and a charter-friendly four-cabin, four heads "Quatuor" setup. Both include a crew compartment within the starboard bow and room for a crew head to port. There's space for a cruise locker as well. The standard wrap up is in a light grey oak for the furniture, dark oak flooring and a choice of unbiased upholstery.
Under sail
You don't squander any time getting the sails up in this motor boat, with the errand of raising the main facilitated by an intelligently constructed hook mounted on the head car that provides a 2:1 purchase as it pulls the sail up the mast track. With the completely secured fundamental and the standard 120 percent genoa, we found the Fountaine Pajot Elba 45 overseen a simple 7 to 8 knots beating into around 12 hitches of genuine wind at an clear wind point of 45 degrees.
Off the wind, she rollicked along pleasantly. Fountaine Pajot keeps up that the bigger genoa implies there's less require for, say, a devoted Code 0. In any case, a central longeron too projects past the bow giving a tack point for such canvas.
| Price per week – High season | Price per week – Low season | VAT |
| --- | --- | --- |
| € 10.700 | € 5.900 | Included |
Under power
Match of 40hp Volvo D2 saildrives tucked into its two transom compartments, the Fountaine Pajot Elba 45 available for rent in Croatia is effectively calm beneath control. You'll can upgrade to a combine 60 hp units, which would make a beneficial choice on the off chance that you're anticipating to spend a part of time motoring. The standard prop may be a 17in three-blade settled unit. In any case, you'll be able overhaul to an 18in Volvo collapsing prop as well.
Control is by means of a standard Volvo twin throttle, making it simple to move at low speeds near to the dock. We overseen a simple 7-plus hitches at 2,000 rpm and way better than 9 hitches at 3,000 rpm.
Conclusion
Fountaine-Pajot's newest design replaces its popular Helia 44, thereby occupying a true sweet spot in terms of an LOA and displacement that caters not only to families that like pottering around the bay, but those with ambitious cruising plans. The changes compared to the Helia are well-thought-out and make the Elba 45 a more efficient boat that performs better all around. If you are looking for a fun, safe cruising boat that will take care of your family in comfort, catamaran charter Croatia on our Fountaine-Pajot is a way to go on Adriatic coast.