Catamarans cruise Croatia

Catamaran Charter Croatia
2019-03-21T20:09:00+00:00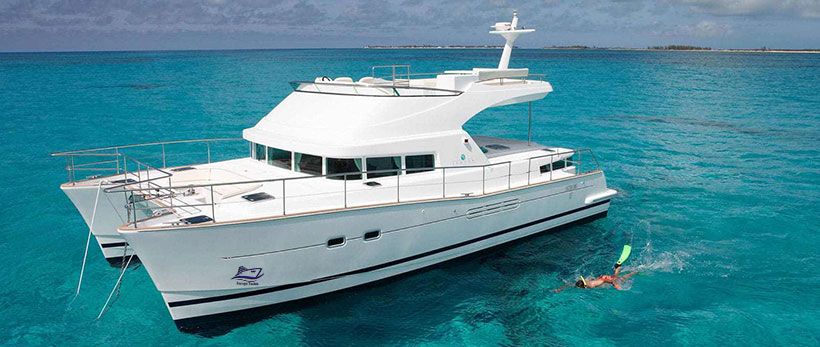 Built: 2006
Cabins: 4
Berths: 8
Length: 13.04 m / 42.78 ft
From: € 5,000 / week

INQUIRE NOW »
Select your charter option
Cruise Croatia on a catamaran this year and enjoy the beauty of freedom at sea. Explore Split area, Sibenik area, Zadar area, Dubrovnik area or Istia with more than 3000 islands like Brac, Hvar, Vis, Korcula, Mljet! Each island group has its own specialty and sailing will make it possible for you to explore many of them during your holiday!
Check our 100+ fleet to match your needs for perfect cruising holiday. Our catamaran sailing in Croatia is available to everybody: couples, groups of friends or families, with prices starting for 1,300€/week and going up to super luxurious 50,000€/week.
We offer bareboat, skippered and fully crewed catamaran sailing in Croatia
If you have any difficulties finding a boat to match your exact needs and desires, feel free to contact us. We will be more than happy to help you.
At Europe Yachts we take the best care of you taking into consideration all your needs leaving you free to enjoy the sun and the sea while our friendly crew takes you sailing around Croatia.
Croatia is becoming quickly the most attractive charter destinations for boat rentals, in Europe and the rest of the world! The amazing sailing conditions is an attraction for sailors and holidaymakers from all over the globe, to flight in and experience the beauty of the Dalmatian coastline. Amazing glistening waters of the Adriatic Sea will present you with a catamaran charter like you've never manage to experience anywhere, with 1244 islands to explore in 7 or 14 days charter, there is really something to suit every sailor's preference! Navigate your sailing boat across this beautiful archipelago and get lost in the emerald forests of Vis, or the breathtaking beaches of Hvar, quite and untouched national park Konati with his islands.
Don't miss it in Croatia: Split, Sibenik, Dubrovnik, Zadar, Pula ….
Three Reasons to Rent a Catamaran in Croatia
Alluring Adriatic Coastline
For a catamaran charter Croatia's rugged coastline is the ideal destination. The coast of Split has an archipelago that is home to a diverse scattering of enchanting islands, each offering completely different experience. Explore the ancient towns of Rab and pine forests or wander through the secret coves of Korcula and pretty olive groves, or head to island Hvar that gets over 2700 hours of sun each year. When you rent a boat in Croatia you will experience an extraordinary adventure where you will be seduced by the unique charm of each individual island and never want to leave!
Optimal Sailing Conditions
If you prefer a navigation stress-free, the Adriatic is the place for you! Sailing in Croatia is a diamond, with the breeze (averaging wind of 10-20 knots) and amazing late-20s temperatures, the climate mid is best for a catamaran charter vacation.
Watersports for all!
Diving, snorkeling, Sailing …. do it all! From any of our base in Croatia charter your catamaran, plan your navigation so you can stop in Blue Cav near island Vis and visit the amazing sea cave where the sun enter and give you the amazing blue cave sea. Dive in Hvar and discover the untouched sea life. Check the amazing beach of Zlatni rat at the town of Bol as a popular destination for windsurfing and snorkeling so rent a boat form Split base and set sail to the islands to have an action-packed few days. Snorkeling gear is included in almost all our catamarans price, so experience something new and discover the untouched marine life below the calm Croatia sea!
The Best of Croatia's Beaches
Croatia is home of the World most amazing beaches, and there is plenty of choices. Start sail on your Catamaran and find stunning golden stretches of sand and charming secret coves …
FIND OUT:
Island Brač, Zlatni Rat: the most famous beach in the world, Zlatni Rat (Golden horn) is a unique strip of a beach that stretches out to a tip and its moving from one to another side by sea moving.
Dubrovnik, Betina Cave: amazing hidden beach is hidden from tourists. The beach is only accessible with the boat, offers an oasis of serenity and privacy below the shade of the cave.
Island Brač, Lovrečina: sandy cove is an amazing spot for stop with a catamaran, surrounded by greenery, ideally to relax and enjoy the view of city's of Split and Omiš.
Check our offer of catamarans for a sailing holiday that we have to offer you. You can also do a targeted search by:
Send us an inquiry and our booking managers will send you our offer in the next 12 hours with all the specifications and detailed prices. Please note the price are there for estimated planes, we have every week some discounts so you will always get the best possible price for Croatia Catamaran holidays.
Multiple weeks discount – from 2% – 5% depending on particular owner's policy / not available for all boats.
Early booking – 5% – 15%
depending on the boat and owner's policy and time of booking.
Usually valid until end of calendar year or end of January curent year.
Last minute – 5% – 15%
depending on the boat and owner's policy.
Boat show – 5%
usually valid during the time of boat shows.
All our catamarans are fully insured, with all necessary charter equipment for you safe and pleasant charter experience in Croaita. With more than 200 catamarans, we are one of the largest charter company's in Croatia for catamaran sailing holiday. As a member of Europe Yachts charter group we can provide you assistance on all Adriatic coast in less then 5 hours and can suggest you places to stay and visit. Our crew will also give you some suggestions about the restaurants to visit, vine bars to explore. Every island in Croatia have restaurants, supermarkets and ATM-s so you don't need to worry about details on your trip. We have also made a custom suggested itinerary for your 7 or 14 days trip so you can have a Croatia catamaran timetable of your trip. If you need a skipper, because we are not charging the skippers because the charter but you are paying them directly int he marina, we have the best skippers in Croatia working with us and after confirmed skippered catamaran charter, we will send you the skippers email and phone number so you can contact him directly before your cumming in Croatia.
If you are chartering bareboat catamaran in Croatia here are some estimated costs that you will have the week of charter:
Here are the estimates of running costs:
Flat rate for skipper wage is 1050 € per week + food for catamarans
Pay attention to Obligatory extras like transit log and tourist tax.
Fuel est.: 250 – 350 €
Mooring fees est.: 500 – 600 € (presuming couple of nights will be on the anchor or mooring buoy)
Food: 850 €+ (provisions for boat + skipper + some dinners on shore. It will heavily depend on your preferences. Pizzas + drinks are around 15 € per adult person. Full meals with wine are around 25 €+)
These estimates also depend on the size of the yacht, length, route etc.
For the confirmation of the booking, we would need your full name and address so we can make the contract that I will send it to you by email for signing. Your contact information's are GDPR secure and will not be used for any marketing purposes. They will be shared with the yacht owner and the Croatian tourist board.
The payment procedure is 50% of the catamaran price is to be payed after signing of the contract and other 50% four weeks before the charter. You can pay wire transfer or with credit card. If you pay with credit card, we need to ad additional 3% for the bank fees.