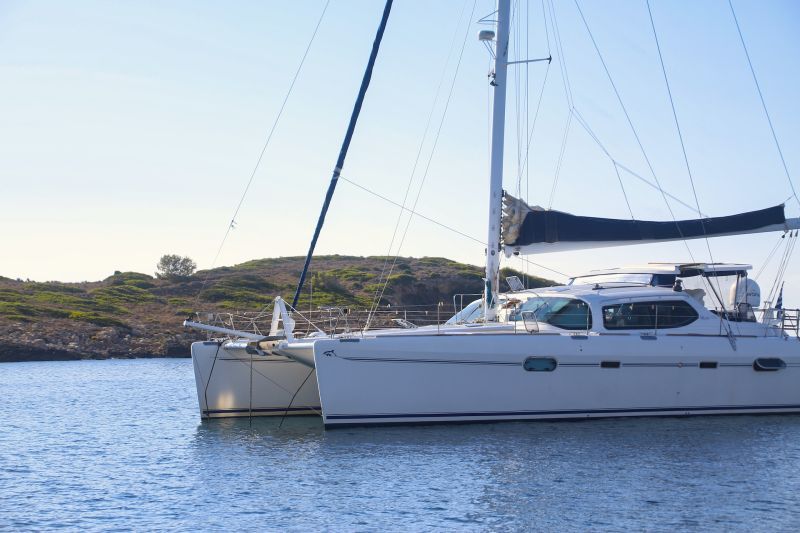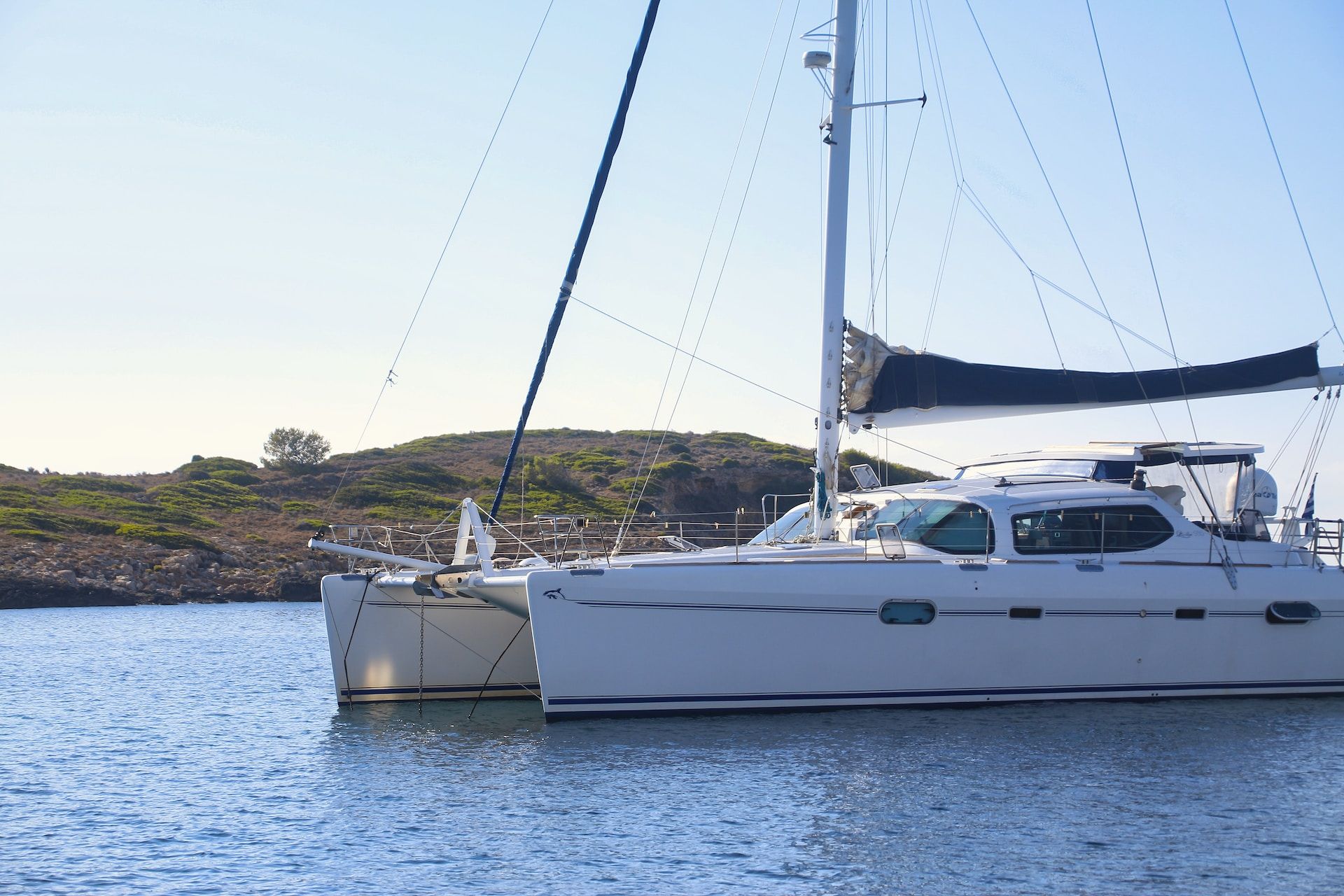 Croatia's Culinary Cruise: Discovering Local Gastronomy on a Catamaran Charter
Croatia's stunning coastlines are an irresistible draw for visitors seeking sun, sand, and the sparkling waters of the Adriatic. However, the country's culinary treasures are equally alluring, offering a local gastronomy journey into Croatia's unique blend of Mediterranean and Central European flavors. A catamaran charter presents the perfect opportunity to sample the finest local cuisine, indulge in fresh seafood, and discover the hidden delights of regional gastronomy as you sail from port to port.
Sailing aboard a catamaran charter in Croatia, you'll have the opportunity to visit the places where your onboard meals are sourced, allowing you to immerse yourself in authentic, fresh, and delicious local dishes. Enjoy mouthwatering seafood caught in the pristine Adriatic, sample traditional recipes handed down through generations, and take part in exclusive wine tastings and olive oil tours.
In this gastronomic voyage along Croatia's captivating coastlines, we will reveal a tantalising array of local flavours and dining experiences, from wine pairings in century-old vineyards to rustic taverns in idyllic fishing villages. Our informative articles will focus on a range of culinary topics, such as discovering the finest seafood and traditional dishes, unearthing the secrets of local markets, and exploring the diverse food and wine trails that crisscross the country's coastline and interior.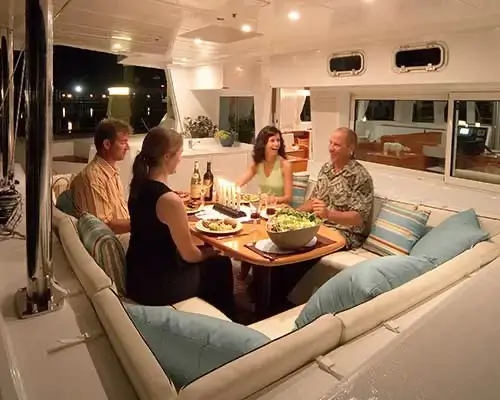 Savouring the Sea: Adriatic Seafood Delights
Croatia's pristine waters make for a seafood lover's paradise, with bountiful catches delivered daily to the tables of local restaurants and markets. During your tour of the local gastronomy, discover a tantalizing array of fresh catches as you sail along the coast, discovering the local gastronomy:
Crni Rižot: This Croatian black risotto is made with squid, often accompanied by other seafood such as mussels, clams, or prawns. Flavored with garlic, red wine, and squid ink, this dish is a quintessential taste of the Adriatic.
Brodet: A traditional fisherman's stew, brodet is composed of various types of fish, tomatoes, onions, and other vegetables. Served with polenta on the side, this delicious dish lets the freshness and natural flavors of the fish shine through.
Grilled Fish: Simple and satisfying, freshly caught fish seasoned with olive oil, salt, and a squeeze of lemon juice is a staple in Croatia. Head to a local konoba (tavern) and enjoy a selection of grilled fish straight from the Adriatic.
Oysters and Mussels: The waters of Ston Bay, near Dubrovnik, are renowned for their delectable oysters and mussels. Sample these succulent treats in waterside restaurants or participate in a local oyster farm tour to savor them fresh from the sea.
Flavors of the Land: Traditional Croatian Dishes
Beyond the seafood delicacies, Croatian cuisine extends to distinctive, hearty dishes that showcase the country's diverse produce and culinary influences as part of its local gastronomy. Indulge in these authentic flavors that reflect the soul of Croatia:
Peka: This traditional slow-cooking method involves baking meat (usually lamb or veal) and vegetables in a bell-shaped dome covered with hot coals. The result: tender, succulent morsels infused with fragrant herbs and a hint of smokiness.
Pašticada: A favorite in the Dalmatian region, pašticada is a slow-cooked beef stew marinated in red wine and prunes, accompanied by homemade gnocchi. This dish showcases Croatia's Central European culinary heritage.
Čevapi: These flame-grilled minced meat sausages are traditionally made from a mix of beef, pork, and lamb and served with ajvar (red pepper sauce) and flatbread. Experience this delightful fusion of East and West in local eateries and open-air markets.
Croatia's Liquid Gold: Wine and Olive Oil
The Croatian coast is a fertile ground for both vineyards and olive groves, producing world-class wines and olive oil. Enrich your culinary cruise by diving into the world of these liquid luxuries while embarking on local gastronomy:
Wine Tastings: Croatia is home to over 130 indigenous grape varieties, making for an intriguing wine-tasting experience. Visit stunning vineyards, such as those in Hvar or the Pelješac peninsula, to sample exquisite Plavac Mali reds, crisp Malvazija whites, or the distinctive wines of Dingač and Postup.
Olive Oil Tours: Croatia's olive oil culture dates back thousands of years, with unique production techniques and a range of flavor profiles. Join a guided tour on islands such as Brač or Šolta, allowing you to delve into the history, production methods, and tasting notes of premium Croatian olive oils.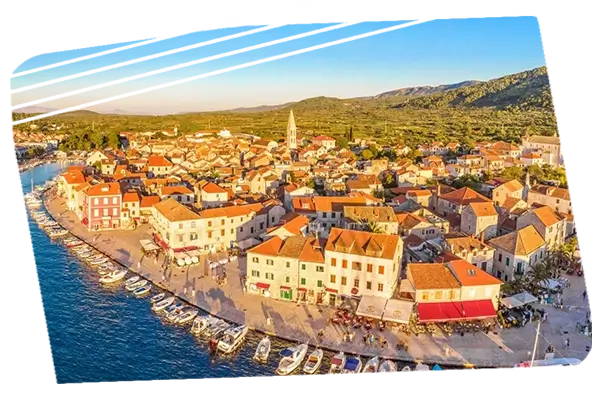 Local Markets and Local Gastronomic Shopping
Immerse yourself in Croatia's vibrant food shopping scene by visiting local markets, where you'll find an abundance of fresh produce and artisanal items reflective of the country's culinary diversity:
Dolac Market, Zagreb: A quintessential local market, Dolac is a bustling hub of Croatian local gastronomy. Meander through the colorful stalls offering fresh fruit, vegetables, cheese, cured meats, and seafood, or stop by one of the surrounding traditional konobas for a taste of local flavors.
Green Market, Split: Situated in the heart of the city, the Green Market provides an authentic local shopping experience alongside beautiful historic buildings. Discover an array of seasonal produce, spices, lavender, and traditional handicrafts as you weave through this vibrant market.
A Local Gastronomy Voyage to Inspire and Delight
Embarking on a Croatian catamaran charter is a journey of stunning vistas, local gastronomy, and tranquil bays and a passage into a remarkable world of flavors, textures, and culinary traditions. Allow our comprehensive blog series to guide you through the gastronomic delights of Croatia, enriching your sailing adventure with sensory experiences that captivate the taste buds and ignite the imagination. Raise your glass, engage your senses, and savor the sublime flavors of Croatia's inspiring culinary landscape as you sail along its captivating shores.
Are you ready to experience the ultimate luxury yacht charter in Croatia and other parts of Europe? Look no further than Catamaran Charter Croatia! Our professional charter company specializes in renting catamarans and creating unforgettable journeys tailored to your desires and preferences.
Since 2004, we have been dedicated to providing exceptional service and a fleet of top-of-the-line yachts that will exceed your expectations. Whether you're seeking a romantic getaway, a family vacation, or a corporate event, we have the perfect yacht for you.
Our experienced crew will take care of everything, from navigating the waters to preparing exquisite meals. All you need to do is sit back, relax, and enjoy the breathtaking scenery of the Croatian coast. Don't settle for an ordinary vacation when you can have an extraordinary one with Catamaran Charter Croatia. Contact us today to book your luxury yacht charter and embark on the journey of a lifetime!