What is a Catamaran for Charter in
Croatia
We have in our offers a great price and safe sailing on the Croatia islands on our catamarans. Take up you friend and family or business partners and discover the beauty of Croatia sea.
A large selection of catamarans for charter at Catamaran Croatia Charter includes smaller catamarans that can accommodate up to 10 people, large luxury catamarans for charter, sport and racing, motor catamarans in Croatia. We would like to point out to you some of our models like Lagoon, Fountaine Pajot, Nautitech when you choose your charter catamaran. CHECK OUR CATAMARANS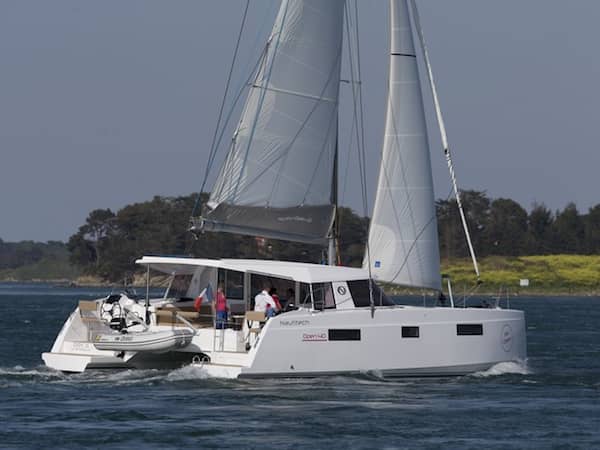 With us you can rent all model of catamaran in Croatia. We have them all in all over the Croatia coast and islands.
In our fleet we have the most popular catamaran models available for charter in Croatia: Lagoon 380, Lagoon 39, Lagoon 40, Lagoon 450, Lagoon 50, Lagoon 620, Fountaine Pajot Saba 50, Nautitech 441, Nautitech 40, Nautitech 40 Open, Privilege 465 and much more.
Some catamarans can be chartered bareboat, crewed or only with a skipper.
Catamarans can be chartered from Split, Dubrovnik, Zadar, Šibenik, Biograd, Seget Donji, Trogir, Kaštela, Pula and other marinas across Croatia.
Catamarans in Catamarn Croatia Charter sail on the same principle as all sailing yachts monohulls, but they have a lot more advantages like stability on the sea, security, speed and comfort in the catamaran and out side. Because of its two hulls and two keels, catamarans are extremely stable.
Due to the fact that Catamarans out on the sea sailing have minimal slope, they are an ideal choice to charter for people who do not tolerate ruff sea and the rolling of the boats. Because of this stability, you can enjoy your sailing on the Croatia coast. Due to the large sailing area between Croatia islands, catamarans are generally much faster then the sailboats and sailing yachts. Because of its twin motors, handling is much easier.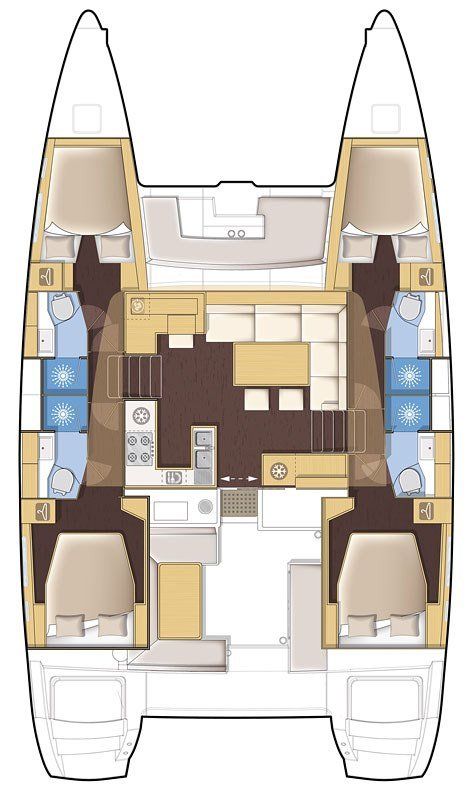 All the catamarans are very large, they all have a shallow draft that is ideal for anchorage in beautiful bays on the Croatia islands and coast. The catamarans can easily enter in the bays where sailing boats cannot, come closer to the beaches where is less crowded for anchorage.
Another advantage of the catamarans is the comfort and the roominess. It have a large central lounge, large cockpit, and all in all a lot more space than the sailboats. We can honestly say that Catamarans for hire in Croatia are blend of comfort pleasure of sailing. Because of it twin hulls, catamarans provide more privacy for our clients and also an exceptional views from the saloon. Because of that all the catamaran brings a higher price and related service, more expensive berths in the marinas and harbors on the islands and on the coast.
In our fleet we offer you more than 300 catamarans for charter in Croatia, we have known manufactures such as Nautitech, Lagoon, Privilege, Leopard, Fountaine Pajot and much more.
About Catamaran Charter in Croatia
Catamarans where always popular but now are the new hit in Croatia charter. They are a way to enjoy charter sailing along with the spaciousness of your home in a yacht. Catamaran Croatia Charter offer catamarans in Croatia that can accommodate up to ten people plus crew that can be a skipper and a hostess or a cook. With a width of almost 30 feet catamarans are a sailing five star apartment with 4 cabins. You can leave your children on deck without worrying they could fall overboard when the catamaran is leaning on side. Let your friends sunbath while you sail the catamaran by your self on the sundeck, or better yet let the skipper do it for you so you can enjoy yourself on the vacation. Even in rough weather you will appreciate the catamaran stability that no sailboat can provide you.
Catamarans are a class of yachts that has 2 hulls, equal in size. Catamaran hull speeds are very high, making catamaran a good choice for recreational uses.
Catamarans are usually faster then single hull boats. This is due to several factors, the most important of which is the catamaran hull shape. Catamarans are also very light, which further reduces drag and displacements. Stability of the catamarans comes from there wide beam length. One more great advantage is that they are wider and much spacer than monohulls. Because of that fact a catamaran interior and deck are much more spacious so you have more room in all places on the catamaran. Since catamarans have more room it creates feelings like you are in the luxury apartment. Heads and showers are separate and also the cabins provide enough room for spacious and large beds.  Catamarans are ideal for long cruising in the Croatia sea as they are very spacious and comfortable for long time on it.
Although the principles, sailing is the same for catamarans and monohulls. Discovering catamaran Croatia charter and rentals with Catamaran-Croatia-Charter.com.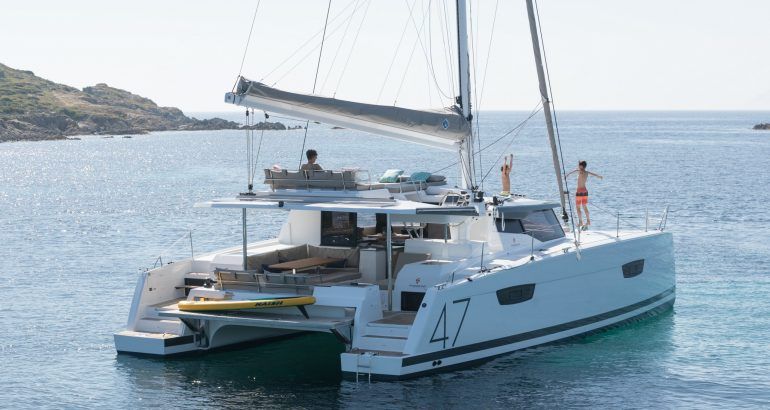 Some catamarans can be harder to tack. Because they are lighter then sailboat in proportion to their sail size, catamarans have less momentum to carry them in the turn when they are head to the wind. Correct use of the catamaran of the sail is often essential in successful completing a track without ending up stuck.
Catamarans have a higher average speed then sailboats.
They are less likely to capsize in the classic manner but often they have a tendency to pitchpole instead. Where the leeward bow sinks into the water and the yacht trips over forwards.
Learning new sailors is usually carried on monohulls as they are thought easier to learn to sail and also is much cheaper, a mixture of all the differences mentioned before  probably contributes to this.
Catamarans and multihulls are normally faster then single hull yachts for three reasons:
Catamaran hulls are thinner in cross section then monohulls.
Catamarans are lighter.
They have a wider beam
Catamaran is most likely to achieve the max. speed when its going forward and its not unduly disturbed by the waves. This is achieved where the waves are not so big, it is achieved by the design. This has led to being said that catamarans are favorable in coastal waters.
Catamarans over 14 meters (46 feet) provide comfortable and pleasant sailing vacation in luxury and style how you deserve it. Catamarans are ideal for long charter vacations; some of them have 4 or 5 cabins, and also with owner versions.
Price range of the catamarans are between 5,000 EUR up to 20,000 EUR per week.
Large variety of catamarans that are for charter mostly with 4 cabins, but we have also some models with three or five cabins. Mostly catamaran comfort line, but also luxury.
Price range is between 3,000 EUR up to 8,000 EUR per week.
Model of catamarans with 3 or 4 cabins are ideal for a group of friends, families and couples.
Price range is between 2,000 EUR up to 5,000 EUR per week.
Advantages of catamaran charter Croatia
Advantages for charter a catamaran in Croatia:
More stability
More room and privacy
Sail faster
Safer for kinds and familly
Shallow draft
On every our Catamaran Charter Croatia offer you will see the Destination (base) of the catamaran, duration of the charter price, the price of the one week charter, the price range of the charter.
Also you have the fast inquiry where you can send us your inquiry.