What is a Catamaran for Charter in
Croatia
We provide our catamarans for safe sailing in the Croatian islands at a low price. Join your friends, family, or coworkers to explore the stunning Croatian sea.
Catamaran offers a wide range of boats for charter. Large luxury catamarans for charter, sport and racing, motor catamarans, and smaller catamarans that may hold up to 10 people are all available in Croatia. When choosing your charter catamaran, we'd like to show you some of our models, including Lagoon, Fountaine Pajot, and Nautitech. CHECK OUR CATAMARANS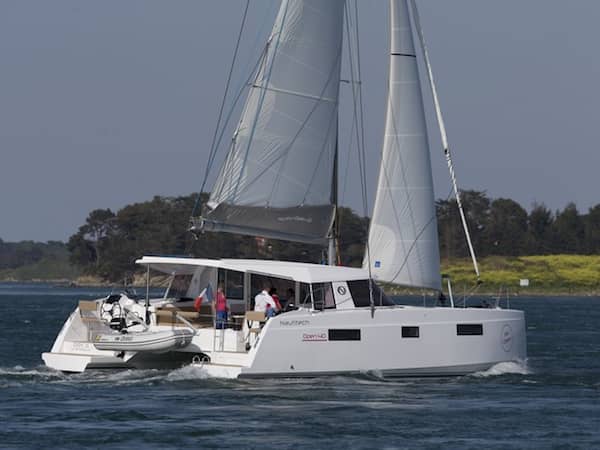 You may hire any kind of catamaran in Croatia with us. They are all throughout the Croatian islands and coast.
In our fleet we have the most popular catamaran models available for charter in Croatia: Lagoon 380, Lagoon 39, Lagoon 40, Lagoon 450, Lagoon 50, Lagoon 620, Fountaine Pajot Saba 50, Nautitech 441, Nautitech 40, Nautitech 40 Open, Privilege 465 and much more.
Catamarans can be rented crewed, bareboat, or only with a skipper.
From marinas in Split, Dubrovnik, Zadar, ibenik, Biograd, Seget Donji, Trogir, Katela, and Pula, Croatians may rent catamarans.
Catamarans in Catamarn Croatia Charter operate on the same principal as other monohull sailing boats, but they provide a number of additional benefits, such as increased seaworthiness, security, speed, and comfort both inside and outside the boat. Catamarans have two hulls and two keels, which makes them very stable.
Catamarans are a great option for charter for persons who cannot endure rough seas and the rolling of the boats because they have less slope when sailing out at sea. You can enjoy your sailing on the Croatian coast as a result of its steadiness. Catamarans often travel at a quicker rate than sailboats and sailing yachts due to the extensive sailing space between the Croatian islands. Its dual motors make handling considerably simpler.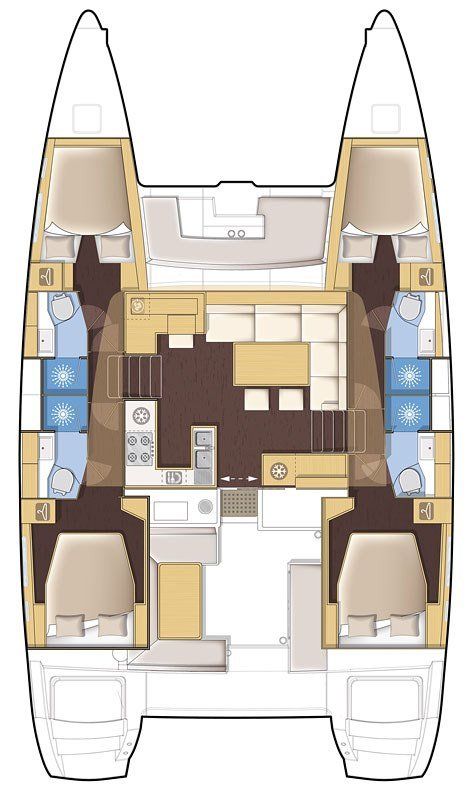 All of the catamarans are quite big and have shallow drafts, making them perfect for anchoring in lovely coves around the Croatian coast and islands. The catamarans can enter bays where sailing boats cannot with ease and can anchor closer to the beaches in less congested areas.
The comfort and space of the catamarans are additional benefits. It has far more space than sailboats overall, including a big central saloon and a big cockpit. We can confidently state that Croatian catamarans for rent are a perfect combination of luxury and sailing fun. Catamarans give our clients additional privacy and amazing views from the saloon due to their dual hulls. The cost of berths at the marinas and ports on the islands and along the coast are higher due to the catamaran's higher price and associated services.
More than 300 catamarans are available for charter in Croatia from our fleet, which includes well-known brands like Nautitech, Lagoon, Privilege, Leopard, Fountaine Pajot, and many more.
About Catamaran Charter in Croatia
Catamarans have long been well-liked, but now they're a new charter favorite in Croatia. They offer a method to take use of both the roominess of a yacht and charter sailing. With personnel that might include a captain, hostess, cook, and up to 10 passengers, Croatian catamarans are available for charter through Catamaran Croatia Charter. Catamarans are four-cabin sailing five-star apartments with a width of over 30 feet. When the catamaran is leaning on one side, you may leave your kids on deck without fearing that they'll fall overboard. Allow your companions to sunbathe while you cruise the catamaran alone on the sundeck, or even better, let the captain do it so you can relax and take advantage of the trip. You will value the steadiness that a catamaran offers you even in bad weather as no sailboat can match it.
A type of boat known as a catamaran has two equal-sized hulls. Catamarans are a wonderful option for recreational usage because of their extremely fast hull speeds.
In general, catamarans are faster than single-hulled boats. This is caused by a number of things, the catamaran's hull form being the most crucial. Due of their low weight, catamarans have even less drag and displacement. The large beam length of catamarans contributes to their stability. They are broader and considerably more spaced out than monohulls, which is another huge advantage. Due to the fact that a catamaran's interior and deck are substantially larger, there is more space throughout the catamaran. Catamarans provide the impression that you are inside a luxurious residence since they have greater space.
The cabins include separate heads and showers, and there is ample space for big, roomy beds. Catamarans are the best type of boat for extended cruise since they are highly roomy and comfortable.
Catamarans and monohulls both sail using the same basic principles. Using Catamaran-Croatia-Charter.com, learn about Croatian catamaran charter and rentals.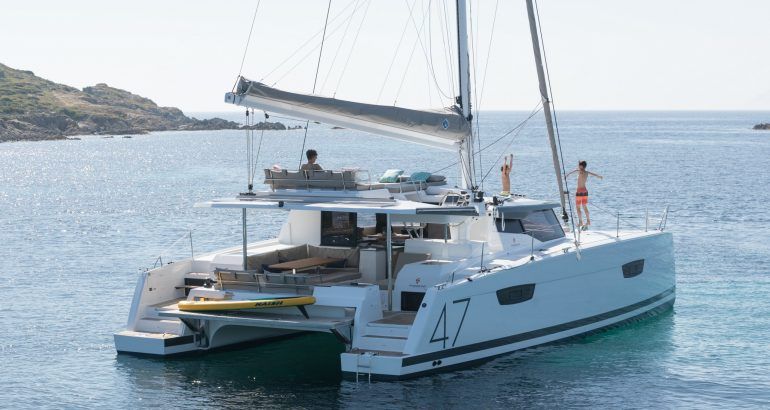 Some catamarans may be more challenging to tack. Catamarans have less momentum to carry them through the turn when they are head to the wind since they are lighter than sailboats in relation to the size of their sails. Correct usage of the sail or catamaran is frequently necessary for successfully completing a track without becoming stranded.
Sailboats travel at a slower average speed than catamarans.
They have a tendency to pitchpole more frequently than they do to capsize in the conventional way. where the boat tips forward and the leeward bow dips into the water.
Since monohulls are regarded to be easier to learn to sail and are also significantly less expensive, a combination of all the factors previously discussed certainly plays a role in this.
For three reasons, multihull and catamaran ships are often quicker than single hull yachts:
The cross section of catamaran hulls is less than that of monohulls.
Catamarans are less heavy.
Their beam is broader.
Catamarans are more likely to reach their top speed when they are moving forward and the waves aren't too disruptive. Where the waves are not as large, this is accomplished by design. As a result, it has been said that catamarans perform best on coastal seas.
Catamarans that are over 14 meters (46 feet) long offer luxurious and elegant sailing vacations that you deserve. Long charter trips are perfect for catamarans; some of them include four or five rooms, as well as owner versions.
The weekly cost of the catamarans ranges from 5,000 to 20,000 euros.
There is a wide range of catamarans available for rental, most of which having four cabins, however we also have some with three or five. Luxury, but mostly catamaran comfort line.
The cost per week ranges from 3,000 EUR to 8,000 EUR.
A group of friends, a family, or a couple might do well on a catamaran model with three or four cabins.
The cost per week ranges from EUR 2,000 to EUR 5,000.
Croatian catamaran charter benefits
Croatian catamaran charter benefits include:
more stability
more space and seclusion
greater speed
safer for families and types
slender draft
Every one of our Croatia Catamaran Charter offers will provide the catamaran's base location, duration of the charter, pricing for a one-week charter, and price range.
Additionally, you have the option of sending us a quick enquiry.