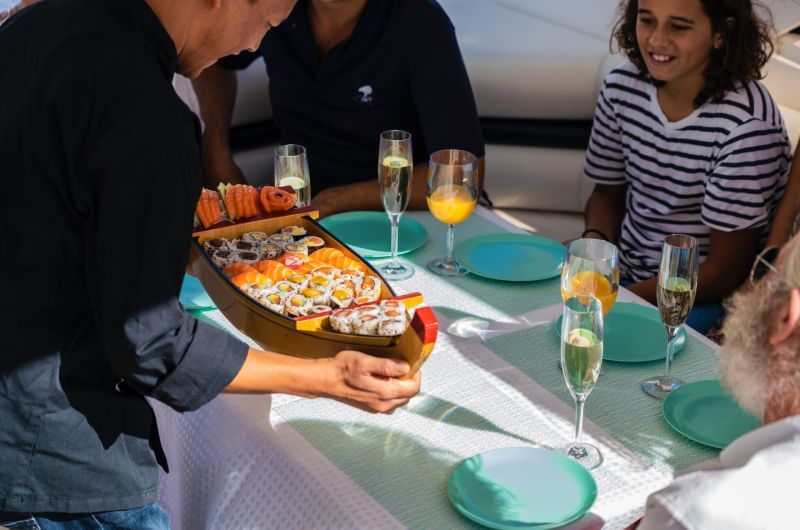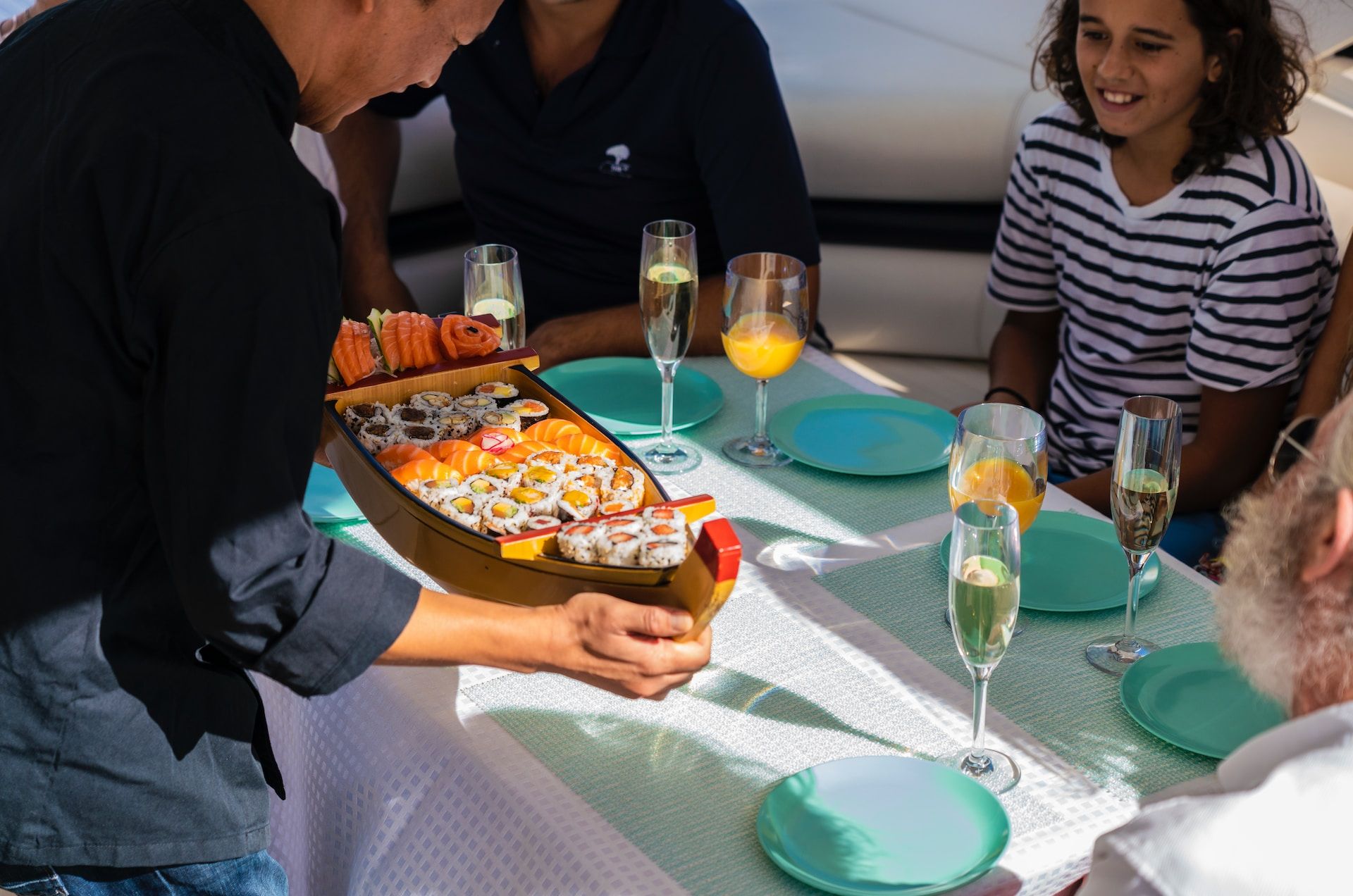 A Culinary Journey Through Croatia Aboard Your Catamaran Charter
Croatia's sun-drenched shoreline, fertile valleys, and crystal-clear waters provide a bounty of flavoursome, fresh ingredients that shape its rich gastronomy, artfully blending Mediterranean influences, Italian flair, and the culinary traditions of its Slavic heritage. As you navigate the picturesque Adriatic coastline aboard your catamaran charter, embark on a gastronomic journey, savouring Croatia's diverse regional dishes, locally sourced produce, and world-renowned wines. Discover the tastes, aromas, and age-old traditions that make Croatian cuisine as captivating and breathtaking as the landscapes you explore.
Our educational, informative, and helpful blog series will introduce you to the fascinating cuisine of Croatia, offering insights, recommendations, and inspiration for an epicurean voyage that takes you from bustling coastal towns to quaint island villages, and from sumptuous seafood feasts to the simple pleasures of a vine-ripened tomato. The blog articles will delve into various culinary aspects, including regional specialities, seasonal ingredients, food and wine pairings, local farmers' markets, and tips for provisioning your catamaran charter.
In addition, our blog series will offer guidance for creating memorable on-board dining experiences, with recipes for traditional Croatian dishes and fresh, modern interpretations that you can recreate in your catamaran's galley. We will also provide recommendations for exploring Croatia's thriving wine culture, introducing you to the distinctive grape varieties, celebrated wineries, and picturesque vineyards that pepper the country's enticing terroir.
As you immerse yourself in the gastronomic pleasures of Croatia, let our blog series be your culinary companion, guiding you in discovering the tastes, traditional dishes, and local ingredients that form the vibrant, enticing tapestry of Croatia's rich food heritage. Together, let us set sail towards a delectable world of culinary delights and shared experiences, anchored in the rich flavours and irresistible charms of the Adriatic Sea.
Regional Delights: Coastal and Inland Specialities
Croatian cuisine bears the influences of many cultures and geographical regions, making for a diverse and fascinating culinary landscape. Embark on a delightful discovery of local specialities as you sail along Croatia's coastline and venture inland:
1. Istria and Kvarner: Known for its Italian influences, the gastronomy of Istria and the Kvarner region features dishes such as fuži (handmade pasta) topped with earthy truffle sauce, pljukanci (rustic pasta dough) with Istrian prosciutto, and kvarnerska jota (a bean and sauerkraut stew).
2. Dalmatia: The sun-drenched Dalmatian coast favours simple, flavourful dishes with fresh ingredients. Indulge in pašticada (a slow-cooked beef dish in a rich sauce), Dalmatian peka (meat and vegetables baked under a bell-shaped lid), or brudet (a fisherman's stew with avariety of fish and shellfish).
3. Slavonia: Venturing inland, Slavonia's cuisine features hearty, flavoursome dishes influenced by Hungarian and Turkish traditions. Taste kulen (a spicy cured sausage), fiš paprikaš (a spicy freshwater fish stew), or čobanac (a slow-simmering meat and vegetable stew).
Croatia's Fresh Bounty: Seafood and Local Produce
Part of the pleasure of your catamaran charter is indulging in the freshest, locally-sourced ingredients that adorn the Croatian table daily:
1. Seafood Sensations: Croatia's pristine waters yield a cornucopia of seafood delights, such as plump oysters and mussels from Ston, fresh fish from the Adriatic, or succulent scampi from Kvarner. Grilled, stewed, or in risottos, enjoy the fruits of the sea at their freshest.
2. Farm-To-Table Treasures: Croatia's fertile valleys and sun-kissed fields provide a wealth of fresh produce to enjoy throughout your journey. Relish ripe tomatoes from the Neretva Delta, olives and olive oil from Dalmatia, and sweet Marasca cherries from Zadar, savouring the delicious flavours of the Mediterranean.
A Toast to Croatia: Native Grape Varieties and Wine Regions
Raise your glass and explore Croatia's flourishing wine culture, renowned for its distinctive grape varieties and diverse wine regions:
1. Whites to Admire: Taste the minerality of Istrian Malvazija, a crispy, floral white wine that pairs perfectly with seafood. Sip on native Pošip from the island of Korčula, a full-bodied white with refined freshness and a touch of oak.
2. Bold Reds: Indulge in the full-bodied, dark fruit flavours of stunning Plavac Mali, Croatia's most famous red wine, originating from the Pelješac Peninsula and the islands of Hvar and Brač. Discover the earthy and robust Teran from Istria, with its distinct acidity and freshness.
3. Wine Regions to Explore: In addition to the popular regions of Istria, Dalmatia, and Slavonia, expand your wine horizons by exploring lesser-known regions like Plešivica, known for its sparkling wines, or the Đakovo region, producing wines since Roman times.
Culinary Adventures Ashore: Markets, Dining, and Local Experiences
Incorporate gastronomic experiences into your catamaran charter itinerary, exploring traditional markets, dining at local konobas (taverns), and enjoying immersive foodie adventures:
1. Market Discoveries: Wander vibrant markets, such as Split's Pazar or Dubrovnik's Gundulić Square Market, selecting fresh ingredients for a delicious meal aboard your catamaran.
2. Authentic Dining: Delight in traditional, home-cooked dishes at family-run konobas, experiencing Croatia's warm hospitality and sipping homemade rakija (fruit brandy).
3. Memorable Food Experiences: Join an Istrian truffle hunt, learn about Croatian cheese production on the island of Pag, or enjoy a wine and seafood pairing at a local winery.
Conclusion
Your luxury catamaran charter through Croatia's pristine coastline is not only an adventure of the senses but a celebration of the country's enticing cuisine, culinary traditions, and the connection to its verdant land and shimmering sea. Our educational blog series hopes to inspire a deeper appreciation of Croatia's gastronomic riches, guiding you as you savour the flavours of its regional dishes, mouth-watering seafood, and delightful wines.
Embrace Croatia's wondrous culinary heritage as you navigate the azure waters of the Adriatic Sea, sharing sumptuous feasts and learning the storied traditions that inform its unique and captivating cuisine. May your journey through Croatia's fascinating culinary landscape leave a lasting impression on your taste buds and etch blissful memories of sunsets, laughter, and conversations shared over plates abundant with local delicacies. Bon voyage and bon appétit!