Discover the Ultimate Luxury: Skippered Catamaran Charter in Croatia
Embarking on a sailing adventure in Croatia is a dream come true for any sea enthusiast. The crystal-clear waters, picturesque islands, and stunning coastal landscapes make it a sailor's paradise. If you're looking to experience the epitome of luxury and comfort, a skippered catamaran charter in Croatia is the perfect choice. In this comprehensive guide, we will delve into the world of skippered catamaran charters, exploring the benefits, the best catamaran models available, and the captivating destinations Croatia has to offer. Get ready to set sail and create unforgettable memories in the breathtaking Adriatic Sea.
For more details contact us, view our frequently asked questions or browse our list of available catamarans for skippered charters.
Catamaran Charter Croatia
2023-11-08T01:57:49+00:00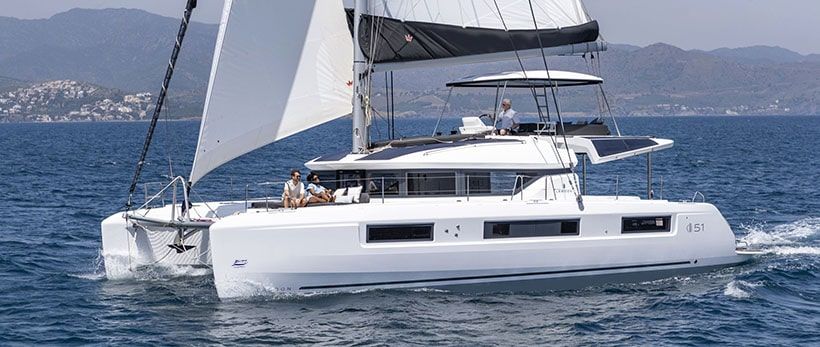 Built: 2023
Cabins: 5
Berths: 10
Length: 15.35 m / 50,4 ft
From: € 8,500 / week

INQUIRE NOW »
The Benefits of a Skippered Catamaran Charter When it comes to exploring the stunning Croatian coastline, a skippered catamaran charter offers a range of advantages. Here are a few key benefits:
Expert Guidance: With a professional skipper at the helm, you can sit back, relax, and fully enjoy your sailing vacation. Skippers possess extensive knowledge of the local waters, hidden gems, and the best routes to take, ensuring a smooth and unforgettable journey.
Stress-Free Experience: No sailing experience? No problem! A skippered charter allows you to leave the navigation, maneuvering, and docking to the experienced skipper, leaving you free to soak up the sun, swim in secluded coves, and indulge in the stunning surroundings.
Customized Itinerary: Your skipper is not just a captain but also a local guide. They can provide valuable insights and recommendations for the most picturesque destinations, charming coastal towns, and secluded anchorages. Together, you can create a personalized itinerary that matches your preferences and interests.
Top Catamaran Models for Skippered Charters in Croatia Croatia offers a wide range of luxurious and well-equipped catamarans for skippered charters. Here are some popular models to consider:
Lagoon 46: Known for its spaciousness, comfort, and stability, the Lagoon 46 is an excellent choice for families or groups. With multiple cabins, ample living areas, and panoramic windows, this catamaran provides a luxurious experience while cruising the Adriatic Sea.
Bali 4.5: The Bali 4.5 combines innovation, style, and performance. Its unique design features an open-plan layout, extensive deck space, and large windows, blurring the lines between indoor and outdoor living. Enjoy the freedom of relaxation and exploration on this exceptional catamaran.
Fountaine Pajot Saona 47: This elegant and sleek catamaran offers a perfect balance of comfort and performance. With its spacious cabins, modern amenities, and excellent sailing capabilities, the Saona 47 provides a luxurious and enjoyable skippered charter experience.
Captivating Destinations for Your Skippered Catamaran Charter in Croatia Croatia boasts an abundance of stunning destinations to explore during your skippered catamaran charter. Here are a few must-visit locations:
Dubrovnik: Immerse yourself in the rich history of this UNESCO World Heritage Site, stroll through the ancient city walls, and admire the breathtaking views of the Adriatic Sea.
Split: Explore the vibrant city center, visit the remarkable Diocletian's Palace, and enjoy the buzzing nightlife in this coastal gem.
Hvar: Known for its vibrant atmosphere and beautiful beaches, Hvar offers a perfect blend of relaxation and excitement.
Korčula: Experience the charm of this medieval town, wander through its narrow streets, and sample the delicious local cuisine.
Conclusion:
A skippered catamaran charter in Croatia allows you to indulge in the ultimate luxury and explore the stunning Adriatic coastline with ease. With the guidance of an experienced skipper and the comfort of a well-equipped catamaran, you can create lifelong memories as you discover the captivating historical sites, picturesque islands, and crystal-clear waters of Croatia. So, set sail and let the Adriatic Sea be your playground on this unforgettable journey.
Remember to optimize the blog post with relevant keywords, include internal and external links, and provide useful and engaging information for your readers.