The most desirable locations for sailing in Croatia also provide the finest opportunities to view the country's many stunning sights. These are the kinds of once-in-a-lifetime opportunities that you do not want to pass up.
It is often considered to be among the greatest places in the world to visit in terms of its scenery, cuisine, and cultural offerings. Where exactly should you go if you're going to be sailing in Croatia?
There are over 1,200 islands to select from, but if you want to see scenery worthy of a postcard, try the Kornati Islands, the Island of Kaprije, or Primosten. These islands also have excellent cuisine. The islands of Dugi Otok, Silba, and Bra provide some of the best sailing conditions in the world, together with a breathtaking setting that will make you never want to leave.
There is a good reason why Croatia is considered one of the best places to go sailing. You will have lots of possibilities to discover new things and craft an adventure that is all your own thanks to the more than 3,000 kilometres of coastline.
The consensus among experienced sailors who have sailed in this region is that sailing in Croatia is one of the most straightforward options available. You will have an abundance of opportunity to discover new places and acquire significant sailing experience thanks to the nearly ideal weather and the broad open waters.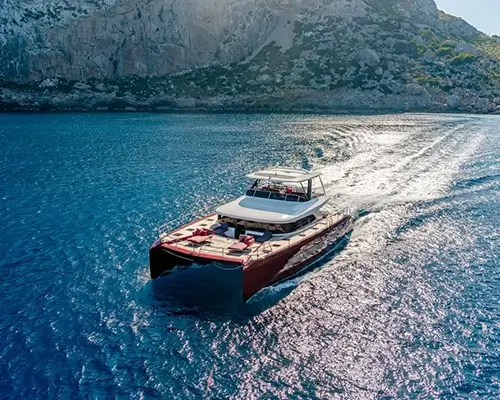 The Top 12 Sailing Destinations in Croatia
Although it's been called the country of a thousand islands, just a small percentage of Croatia's islands are truly populated. The remainder are ideal landmarks to use as an anchor while exploring.
The islands may be broken down into two distinct groupings, which are referred to as the north and the south. What sections of Croatia you are able to see will be determined both by your aims for the sailing trip and the amount of time you have available.
1. Kornati Islands
Just the group known as the Kornati Islands has close to one hundred islands, smaller islets, and big rocks. Due to the fact that this area can only be accessible by sailing, there will be far less traffic here in comparison to a more populous metropolis.
In addition to offering some of the best snorkeling in the world, this area is home to the renowned Kornati National Park. In addition to the marina, where you can get all of your essentials, there are a few restaurants here that are run by families.
2. Island of Kaprije
A trip to Kaprije is an excellent option to escape enormous crowds or sites that are often quite crowded. This remote area is home to close to 150 people, all of whom, should they want it, have their food and other necessities brought to them by boat twice a day. The nearest businesses and restaurants are located a short distance away.
If you want to gain a genuine sense of what life was like in the Mediterranean in times past, this is without a doubt one of the most important islands you should visit. You won't want to go anywhere else after seeing the gorgeous nature, historic structures, and cultural offerings of this place.
3. Primosten
Even though it's a popular destination for tourists, Primosten manages its business like a typical rural community. When you cruise into a port in Venice, you will see historic Venetian houses and streets made of cobblestone.
At night, this area comes to life as a result of the large number of people that congregate in the nearby restaurants, pubs, and on the streets to watch or listen to live music. Exploring the local culture is a wonderful experience that may be had while sailing.
4. Dugi Otok Island
When compared to other well-known destinations in Croatia, Veli Rat Dugi Otok, often known as Long Island, is located further to the north. Because there are less people and fewer things going on at the same time, it is a more peaceful period for nautical pursuits.
While you are anchored, you will have the opportunity to visit stunning coves, caverns, beaches with white sand, and even a lighthouse. This location is perfect for those who wish to be close to nature while still seeing less people.
5. Silba Island
Because of its strategic location, the island of Silba has earned the nickname "Gate of Dalmatia." Despite the fact that it divides the both and central Adriatic, it continues to be a popular tourist destination.
This area boasts the Tower of Love, which is ideal for sailors who are on their honeymoon or who are considering about getting married. This was a story of a guy who made a pledge to marry the woman of his dreams and had a tower erected in their honor while he was out at sea to commemorate their love for one another.
6. Island Brac
Island Blac is the place to go in Croatia if you want to visit the largest island that is part of the Dalmatian archipelago. Strong winds make for ideal sailing conditions almost all of the time, giving sailors plenty of opportunities to enjoy the sport to its fullest.
In addition to this, it is famous for its abundant supply of marble, its beaches covered in golden pebbles, and its excellent windsurfing conditions. If you are in the area of Bol and feel up to the challenge, consider climbing the approximately 800 meter high Vidova Gora.
7. Sesula Bay
The beautiful Sesula Bay can be located on Solar Island, which is famous for its breathtaking landscapes. It is highly recommended that you dine at either I mi or e ula, which are both well-known restaurants that have received several positive ratings. If you lunch with them, you may utilize the mooring buoys that they provide free of charge.
This location offers the ideal balance of tranquility and natural splendor, so you can take in the sights without having to worry about getting too wild at night. In addition, they have ancient vines that produce the world-renowned Zinfandel wine.
8. The town of Vis on the island of Vis
The town of Vis was not opened to the general public until 1989 after having first seen action during World War II. Therefore, after a considerable amount of time, it has at last caught up in terms of growth and developed into a well-liked spot for sailing.
Even though it is not as well-known as some of the other places to visit in Croatia, it should not be disregarded. They still have a lot to offer, including things like wine tasting in old vineyards, visits of military installations, and a stunning coastline. Vis Island is an excellent choice for anyone looking for a more peaceful vacation in Croatia.
9. Dubrovnik
There are several reasons for Dubrovnik's widespread renown. To begin, they have carefully recreated the atmosphere of the Middle Ages by surrounding themselves with stone walls and constructing historical structures. In addition to that, they shot many episodes of Game of Thrones in this site as well as several others around Croatia.
There is an abundance of things to do in Dubrovnik, such as visiting the Old Town, Lokrum Island, and Fort Lovrijenac, to name just a few of the possibilities. It is still a favorite site for conversation, and there is a good reason for that; nonetheless, it may take you many days to take everything in.
10. The Peljeac Peninsula in Ston Town
The Peljesac Peninsula is home to the well-known town of Ston and the wall that surrounds it. The stone quarry at Ston was protected by the world's second-longest defensive walls, which were built there to protect the city.
In addition to wine and the wall, Ston is home to some of the finest oysters one could expect to discover anywhere in Europe. This is a sailing destination that can't be missed if you have a passion for both history and gastronomy.
11. The Town of Korcula, located on the Island of Korcula
There are many tales and myths associated with the island of Korcula, such as the notion that it was Marco Polo's birthplace. You will be able to look around his house while you are here.
This is another another stunning Mediterranean beach town, and it has lots of the typical treats to offer in terms of its cultural heritage and delectable cuisine. During the warm summer months, you may expect to find this site to be rather crowded, and the weather for sailing will be ideal.
12. Hvar Island
It is possible that Hvar Island is one of the sites where it is most challenging to locate a space to park your boat; thus, you should think about mooring someplace close and finding a route into the region. When you finally get there, you won't be disappointed since you'll be able to locate anything that you could ever imagine finding there.
There is something enjoyable for everyone, from mouthwatering cuisine to breathtaking views to a vibrant nightlife scene. Even while there are brief intervals of calm and stillness, you'll probably discover that a lot of activity continues well into the wee hours of the morning.
Suggestions for Sailing on the Croatian Islands
In order to successfully navigate and organize a journey to Croatia, you will face challenges regardless of the direction from which you set sail. These challenges may include the following: It is frequently considered as a playground for Europe's greatest seas, with minimum difficulties that sailors need to worry about when they are out on the ocean.
Depending on the distance you will need to go by boat, you will need to make preparations well in advance. Although Croatia is home to some of the world's most ideal sailing conditions, it is important to remember that safety measures are still essential.
Where Should We Set Sail?
Even though the places on this list are just a small sample of all there is to see and do in Croatia, using it as a jumping off point for your own list is an excellent idea. Everything will depend on how much time you are willing to spend traveling and discovering new places.
When compared to other regions in the south of Croatia, the northern section of the country has a greater number of marinas and gives the impression of being an older and more established region. Although it could appear that the north is a little bit more "touristy," this fact should in no way detract from any aspect of it at all.
The Best Occasion to Go Yachting
There are a few months out of the year that are not ideal for sailing, so you should either steer clear of those times of year or consider going somewhere else for the time being. There are a lot of Italians that come here to go sailing throughout the months of July and August, so the marinas and other areas will be very congested during those months. This, in turn, has an effect on the prices of virtually everything.
The months of May and June have milder weather, but the water temperature during those months can be higher, which can lead to more severe circumstances in the places that are nearby. September is a pleasant month, however owing to seasonal shifts in their menus, certain establishments may be closed. The months of April and October offer stronger winds, which makes for a more enjoyable sailing experience for more seasoned sailors.
Do You Prefer Harbors or Marinas, or Both?
It is possible that you may not require all of the facilities that a conventional marina provides, depending on the sort of boat that you have. Croatia is home to somewhat more than 50 marinas, almost half of which are utilized by the country's Ministry of Finance. These have been there for a long time so that sailors arriving in Croatia would always be able to find a spot to tie up their boats.
It is important to consider your boat and the requirements that you have before choosing a marina because some marinas offer more amenities than others but also charge more. It's possible that docking your boat in the harbor of a quaint hamlet will provide the best value in terms of both cuisine and location. When using ports, it's possible that you won't always have everything you require, but the prices will be lower.
The state of the water in question
Some months are easier to sail in Croatia than others, but overall, the conditions are some of the greatest in the world. If you are new to sailing, this is the ideal chance for you to get more experience without feeling pressured to do so quickly.
It is not the tides themselves that are the primary source of concern; rather, it is the current that is found in harbors and river mouths. Although you are more likely to see stronger north-east Bura winds during the winter months, you should still keep an eye out for them all year long. The Maestral winds are known to convey a certain amount of attitude throughout the summer months; nonetheless, there are days when they seem to be completely lifeless.